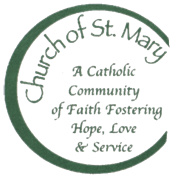 Church of St. Mary
Willmar, MN
Mission Statement
From the time Mass was first celebrated in Willmar, in 1871, St. Mary's has become a large and rapidly-growing parish of caring and diverse people.
With Christ as our model, we see ourselves as a people involved in, committed to, and responsible for respecting the dignity of each and every person in our local and world community.
We recognize that our mission is to foster spiritual and personal growth by providing for worship and education and by promoting Christian leadership and social justice.
Our dream is that as a community, we manifest Christ's presence by continuing to reach with hope, love, and service to one another with a clear sense of direction for the future.


---

The Church of St. Mary is a member of the Catholic Area Faith Community of Jesus Our Living Water. www.ourlivingwater.org

---
Free printable calendar files from WinCalendar: Word Calendar, Excel Calendar, Desktop Calendar